If you are considering buying a home or are actively bidding on homes for sale, do not move forward without a home inspection. Our residential home inspection services in Morgantown ensure you know exactly what you are getting into when buying a home.
We also inspect homes on behalf of sellers who would like to address flaws before the buyer's inspector performs an in-depth analysis of the house. Some local homeowners who intend to remain in their home also choose our residential home inspection services to proactively identify all flaws with their living space and repair them right away for safe, worry-free living.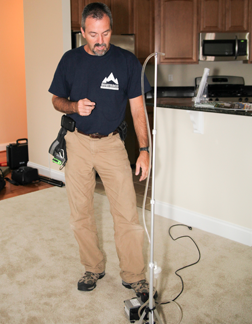 Mold naturally forms inside and outside of all Morgantown-area homes. However, if enough mold grows in your house, it will cause all sorts of health problems ranging from asthma to allergic reactions. We perform mold inspections and testing to provide you, the homeowner or homebuyer, with a sense of whether your living space is safe. Our residential home inspection services in Morgantown even go as far as using swabs, tapes and air samples for in-depth mold analysis.

If your home has not been analyzed with infrared thermal imaging, you should strongly consider having it done. Our infrared thermal imaging testing pinpoints leaks around plumbing, the roof, doors and windows. We even pinpoint areas where there is inadequate insulation to help keep your heating and cooling costs down.
There might be a significant problem behind one of your home's walls, ceilings or floorboards yet you'll never know it unless you have infrared thermal imaging performed. This analysis determines if such problems exist and gauges whether your home is energy efficient. Our inspectors are certified through the Residential Energy Services Network as well as the Building Performance Institute, guaranteeing our infrared thermal imaging is as accurate as possible.

Your home might have radon yet you won't have any idea that this gas is present unless it is professionally tested.  Every home should be tested for radon, regardless of whether it is in the process of being bought, sold or remaining with the current owner.
Radon develops when uranium within the soil below the house breaks down and finds its way inside through a crawl space or basement. Radon can compromise your health to the point that your quality of life greatly suffers. Though few know it, radon causes more than 21,000 lung cancer deaths every single year.
Residential Home Inspection Services in Morgantown are a Call Away
Put safety first by scheduling a radon test in addition to our other residential home inspection services in Morgantown. Our inspections reveal whether the home you live in or the one you would like to purchase is safe to live in. Give us a call today at 304-709-3200 to schedule mold testing, radon testing and infrared thermal imaging at your home.